The word 'supertruck' is not enough to describe the 'ultratruck' behemoth that is the Liebherr T282C, which is used in mining operations worldwide. Its sheer scale can be judged by its empty weight of 266 tons – or more than 150 Ford Focus hatchbacks piled together. Not only that, but it's also capable of carrying a 400 ton payload on top of this, giving it a weight of over 600 tons when full!
Powering it is a diesel engine that comes in either fuel-optimised or emissions-optimised setup. As with passenger cars, achieving lowest-possible exhaust emissions carries a fuel usage penalty. It has up to 20 cylinders and a 95.4-litre capacity; maximum power is 4,023bhp! The engine alone weighs 12 tons. It delivers energy to an alternator, which powers a liquid-cooled control box – this converts it into three-phase AC current.
It is moved by an AC electronic drive system called IGBT – insulated gate bipolar transistor. This uses in-wheel induction motors to move the monster truck. They allow the diesel to run independently of travel speed, therefore generating drive in the most effi cient way possible. This gives better fuel economy.
The IGBT drive system can also slow the big truck down instead of using the back-up disc brakes. This regenerates electrical energy, which is used to power the truck's auxiliary systems – it is hybrid-style ecological awareness!
Road construction dumper truck drivers will fi nd the cabin of this beast fairly familiar: it has a traditional steering wheel and pedals, and the left-hand-drive set-up includes a 30- cm colour touch screen for diagnostics. Its top speed is 64km/h (40mph) and the clever drive system even aids handling. In corners, drive to the outside rear wheels is increased and eased off on the inside wheels, helping it turn in better.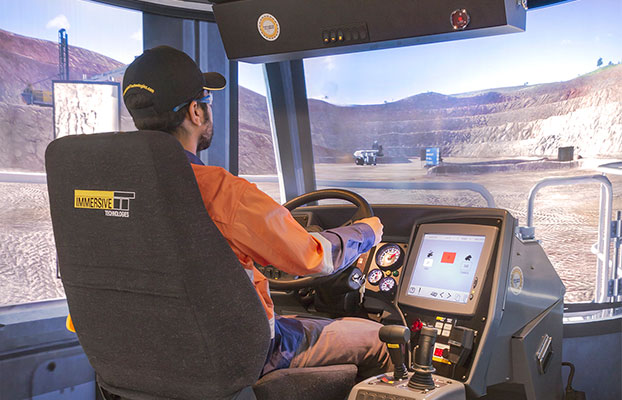 The T282C is constructed using a vertical integration process. On the cast truck frame sits the massive dump body, superstructure and drivetrain. Liebherr has optimised it using computer aided design, so reinforcements are only added in high stress areas. This has cut weight and also improved the maximum payload. The dump system is controlled using a joystick and completes a lift cycle in under 50 seconds. Fully lifted, the dump body stands nearly 15m high.